BRIEF:
The USANA Celebration 2017 needed to provide sales representatives of the high quality nutritional supplements the opportunity to transform their life and business across two exciting roadshow events in Melbourne and Auckland. To expertly create an authentic celebratory atmosphere, USANA sort a stimulating event with inspiring content and professional AV that would create a memorable event with high energy levels.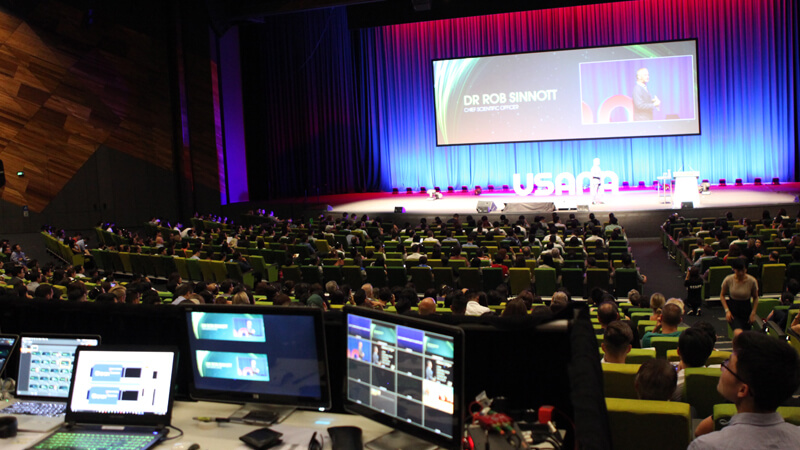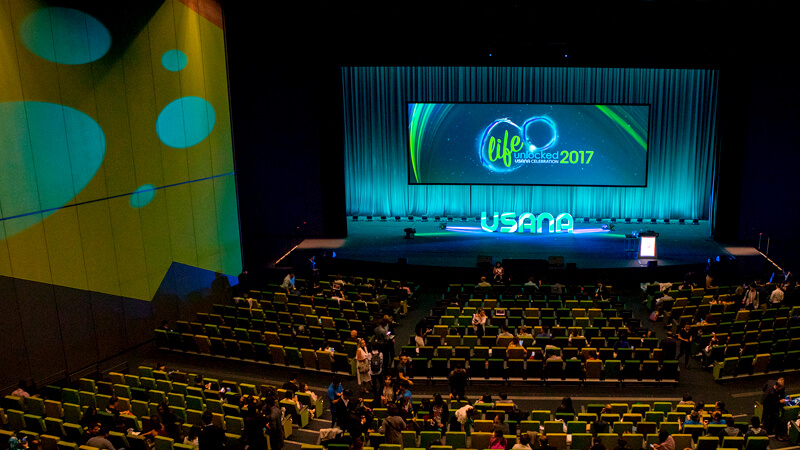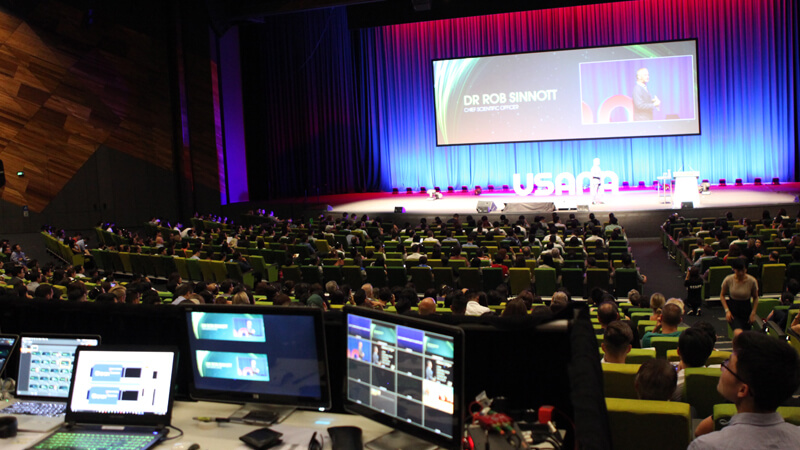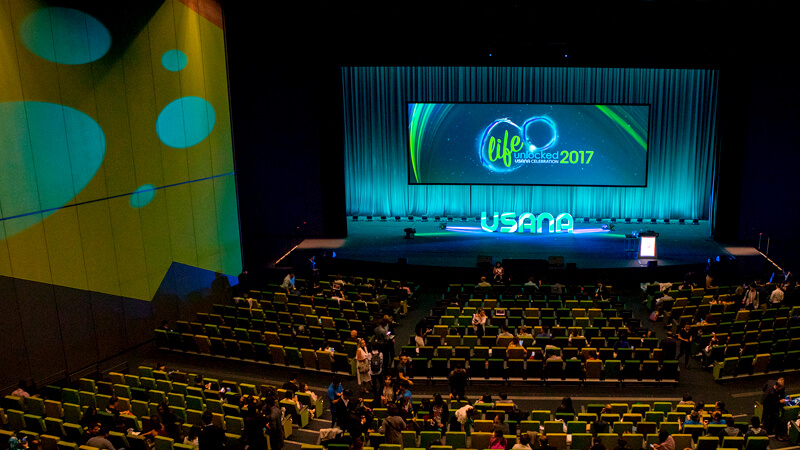 ACTION:
With celebration the theme of the roadshow, International Productions introduced a number of key production elements to ensure the theme was authentic and engaging from start to finish. This included elements such as upbeat music programming, specialised lighting design and custom-made visual content that became the foundation for building a highly-charged atmosphere across the events.
To create personal experiences for the delegates with the five keynote speakers, International Productions included a 12m x 4m blend screen which allowed the audience to view life footage of the speaker talking and their keynote presentation simultaneously. This delivered a seamless plenary experience that maximised information absorption to enthrall the audience.
Each speaker was introduced with a sleek introduction video that aimed to excite the audience before they even stepped on stage. Between keynote sessions, bespoke musical stings and playlists combined with simple but effective lighting had delegates on their feet and dancing in the isles in celebration.
Illuminated Foam lettering spelt out 'USANA', with the lighting used to subtly influence the room's atmosphere. Lighting was static during presentations, so not to detract from the speaker, however, during breaks they were lit up with a coloured light display in sync with the music's beat, to create a captivating party atmosphere.
OUTCOME:
International Productions' strategic use of high-energy video rolls to introduce speakers and audio-visual elements to energise event breaks – built a captivating celebratory atmosphere across the two-day events. The blend screen transformed the audience's viewing experience with increased learning engagement across the event. The USANA celebration 2017 was an exceptional display of passionate and engaging experiences that allowed all attendees to celebrate, connect, learn and be inspired to transform their life and business.
#lifeunlocked17 #InternationalProductions
"USANA Australia have worked with Adryan and the team at International Productions for the past three years on various events in Australia & New Zealand. International Productions are knowledgeable, approachable, work wonders with limited budgets and are a breeze to work with – I would recommend them to any client."
USANA Health Sciences